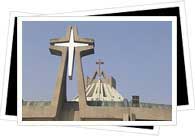 The Festival of Our Lady of Guadalupe (Festival de Nuestra Señora de Guadalupe) is an annual festival that the entire country celebrates come December. After all, the Virgin of Guadalupe is Mexico's patron saint. She is also a familiar figure to the Aztecs as the mother of humankind and the earth goddess.
The major celebration is held on December 12. Millions of travelers are drawn to the Basilica of Mexico City as part of their tribute to the patron saint and as a pilgrimage. The plaza in front of the Basilica is the place to be, as dancing, singing and general merriment liven the atmosphere.
Of course, other cities and town also celebrate the festival. Most notable of these are the celebrations in Puerto Vallarta. Here, the people dance and party non-stop for twelve days.