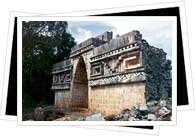 Located in southeastern Mexico, The Yucatan Peninsula is bordered by the Caribbean Sea on the east and the Gulf of Mexico on the west and north. It spans around 84,000 square miles, with 1,000 miles of this along the shoreline. It is shaped like a fish hook and has rain forests, white sanded beaches, fresh water pools in caverns and world class resorts.
The average annual temperature in the Yucatan Peninsula is 26.5° C, summers are hot, hot, hot, with trade winds cooling the air and winters are even pleasant. There are frequent rains come April, May and from September to January.
The Yucatan Peninsula has the states of Campeche, Quinatana Roo and Yucatan. Yucatan, with its capital city of Merida, also has for its major cities Celestun, Progreso and Valladolid). Campeche (capital city), Escarcega, and Ciudada del Carmen are major cities of Campeche State while Chetumal (capital), Cancun, Cozumel, and Playa del Carmen.
The peninsula is also known as the gateway to the Mayan world. Here, you can find many Mayan archaeological sites, plus the descendants of those who originally built them. In most villages, you will find that ancient traditions live on. Some homes still have straw rooftops and women still wear the huipil (traditional Mayan wear).
The Yucatan Peninsula enjoys hot and humid weather all year round, which makes it great for lazing around the peninsula's many beaches and indulging in watersports. The Yucatan is a great scuba diving as it is the world's second largest coral reef.