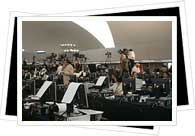 The media in Mexico are great sources of information for cultural events, news, politics, local celebrities and celebrations. You can also obtain a wealth of information on resorts, vacation packages, theater and cinema shows, and a whole lot more.
Television in Mexico
When it comes to television, you can tune in to Televisa, Canal del Tiempo or CNI Noticias. Initially, Televisa was virtually the only network on Mexican TV and continues to be a major source of Mexico's television programming.. Now, however, because of more media freedom, there have been a number of networks that have entered the TV market in Mexico.
Stations:
Televisa: This major player in Mexico has affiliates in different regions and has four networks
TV Azteca: This has two networks and a number of local stations
Once TV – Canal 11: This mainly focuses on public, educational and cultural shows.
Television Metropolitana – Canal 22: This network is owned and run by the government.
Radio in Mexico
There is a whole slew of choices when it comes to radio stations in Mexico – there are around 1,400 stations (both local and regional stations). This includes both AM and FM stations.
The major stations are:
Grupo ACIR
Grupo Radio Centro
Radiopolis
MVS Radio
Nucleo Radio Mil
Instituto Mexicano de la Radio
Newspapers in Mexico
There are major dailies that cover the entire country and regional newspapers that give more local color and information.
Here are some of the major newspapers in Mexico:
Excelsior
La Jornada
El Financiero
El Universal
El Sol de Mexico
Reforma
Siempre!