Entry and Visa Requirements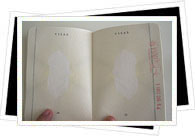 What you need to enter Mexico:
Proof of Citizenship (Original Birth Certificate with a raised seal, a valid passport or naturalization papers). Note: If you are using your birth certificate as your proof of citizenship, also bring a current photo ID, such as a driver's license.
Legal proof of a name change, if the last name on the birth certificate is different from your current name. Only original documents are accepted, photocopies will not be approved.
The Mexican Tourist Permit
Citizens of countries such as the United States, Canada, New Zealand, Australia, Argentina, Chile, Japan and almost all western European countries are not required to get a visa to enter the country as tourists. The list of countries change from time to time so be sure to check current regulations via their website (www.embassyofmexico.org) or the nearest Mexican embassy or consulate.
The Mexican Tourist Permit (FMT) is Mexico's equivalent for a tourist visa. This is issued by border officials, once proof of citizenship is approved. If you are traveling to Mexico by plane, airlines usually provide you with the necessary forms that you can fill up while aboard Mexico. Be sure to take care of this permit as you will not be allowed to get out of the country if you lose it. Replacements can take from a few hours to up to a week. Also, write down your FMT number and keep it with your travel documents, to facilitate FMT replacement in case you lose it.
The FMT is usually good for up to 160 days (6 months). You may extend this time by requesting for an extension from an official immigration office in Mexico.
Please also note that in Baja California, the rules are a little different. FMTs are issued for a maximum of 180 days a year and a maximum of 30 days per visit. If you are entering by car through the border of Baja California, be sure to enter through Ensenada, Guerrero Negro, Mexicali, Tecate and Tijuana, as these are the sites where you can get an FMT. If you plan to bring in your car into the country, the cities that issue such permits are only in Ensenada, La Paz, Mexicali, and Tijuana.
For those bringing minors without parents or with only one parent, please bring a notarized letter from the absent parent(s) that authorize the child to travel to Mexico.
Log into www.embassyofmexico.org for more details or specific situations.
Embassies & Consulates
United States
United States Embassy
Address: Paseo de la Reforma 305, Mexico City
Telephone: 55 5080 2000or 555 511 9980
Hours: Mondays through Fridays from 8:30 a.m. to 5:30 p.m.
Website: www.usembassy-mexico.gov
United States Consulates
López Mateos 924-N, Ciudad Juárez
Telephone: 656 611 3000
Progreso 175, Guadalajara
Telephone: 333 268 2100
Av. Constitución 411 Pte., Monterrey
Telephone: 818 345 2120
Tapachula 96, Tijuana
Telephone: 664 622 7400
United States Consular Agencies
Acapulco 744 469 0556
Cabo San Lucas 624 143 3566
Cancún 998 883 0272
Cozumel 987 872 4574
Hermosillo 662 217 2375
Ixtapa Zihuatanejo 755 553 2100
Matamoros 868 812 4402
Mazatlán 669 916 5889
Mérida 999 925 5011
Nogales 631 313 4820
Nuevo Laredo 867 714 0512
Oaxaca 951 514 3054
Puerto Vallarta 322 222 0069
San Luis Potosí 444 811 7802
and San Miguel de Allende 415 152 2357
Australia
Address: Rubén Darío 55, Col. Polanco
Telephone: 555 1101 2200
Hours: Mondays through Fridays from 9:00 a.m. to 1:00 p.m.
Canada
Address: Schiller 529, Col. Polanco
Telephone: 555 724 7900
Hours: Mondays through Fridays from 9:00 a.m. to 1:00 p.m.
Canadian Consulates:
Acapulco 744 484 1305
Cancún 998 883 3360
Guadalajara 333 615 6215
Mazatlán 669 913 7320
Monterrey 818 344 2753
Oaxaca 951 513 3777
Puerto Vallarta 322 293 0098
San José del Cabo 624 142 4333
Tijuana 664 684 0461
Ireland
Address: Bulevar Cerrada, Avila Camacho 76, 3rd floor, Col. Lomas de Chapultepec
Telephone: 55 5520 5803
Hours: Mondays through Fridays from 9:00 a.m. to 5:00 p.m.
New Zealand
Address: José Luis Lagrange 103, 10th floor, Col. Los Morales Polanco
Telephone: 55 5283 9460
Hours: Mondays through Fridays from 8:00 a.m. to 3:00 p.m.
South Africa
Address: Andrés Bello 10, 9th floor, Col. Polanco
Telephone: 55 5282 9260
Hours: Mondays through Fridays from 8:00 a.m. to 3:30 p.m.
United Kingdom
Address: Río Lerma 71, Col. Cuauhtémoc
Telephone: 55 5242 850
Website: www.embajadabritanica.com.mx
Hours: Mondays through Fridays from 8:30 a.m. to 3:30 p.m.