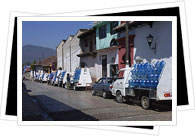 For a more enjoyable trip, one should be make sure to take note of safety and emergency measures.
Water
Beware of Moctezuma's revenge! Avoid drinking tap water at all times. Drink only purified water. This is a cost-effective safeguard against stomach problems that can haunt you throughout your holiday if you're not careful.
Drugstores
There are usually more than one pharmacy (farmacia) in any given city or town. For small towns, the pharmacies usually take turns staying open during the off hours. The normal opening hours of these pharmacies are Mondays through Saturdays from 8:00 a.m. to 8:00 p.m. If you need to buy medicine during off hours, ask for the farmacia de turno.
Health Measures
Here are some things you can do to make sure you stay healthy throughout your entire trip:
1. Take the following as a precaution:
o Pepto bismol liquid or tablets
o Chamomile tea
o Yogurt (fresh or tablets)
o Papaya (enzyme tablets or fresh)
2. Remember what your mother told you always "wash your hands!," well, be sure to you're your mother during your stay in Mexico.
3. The sun, heat, humidity and climate can wreak havoc to your system. Be sure to aoid too much alcohol and sun. Drink lots of water.
4. Don't overdo sun exposure, especially during your first few days. Start from around 20 minutes of sun exposure and gradually work your way up.
5. Wear protective gear a broad-brimmed hat, a cover-up, sunglasses and plenty of sunscreen.
6. The afternoons are the hottest part of the day, instead of gallivanting around, use this time to take a siesta.
Safety Measures
1. Keep your passport, tourist card and other valuables in a safe place.
2. Carry only the cash you need for the moment.
3. Carry your cash in a money-belt inside your clothes. Do not take it or any money out publicly. Do so in a private place.
4. When withdrawing from an ATM, choose ATMs in malls, stores or any public place. Avoid using the ATM in deserted areas and at night. Put away your money immediately after you withdraw.
5. Be especially alert in crowded areas such as the market and crowded trains or buses.
6. Ask your hotel receptionist about areas you should avoid.
7. As much as possible, go with groups and avoid going out along at night.
8. Avoid hailing cabs in the street. Ask your hotel receptionist to do it for you. They keep a record of the driver's name and taxi number. Otherwise, take only official taxis, especially when you take a taxi from the bus terminal or the airport.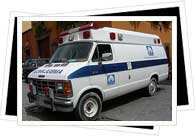 Emergency Numbers
Information 040
Emergencies (Police, Ambulance, Fire) 060
ABC Hospital
Emergency 5230-8161/62/63/64
Switchboard 5230-8000
Red Cross Hospital
Switchboard 5580-0070
Ambulances 5557-5757, 5395-1111
Bosques 5570-2011
South 5660-4639
North 5787-1540
Rescue and Medical Emergencies Squad (52) 5722-8805
Federal Highway Police (52) 5677-2227
Civil Protection (52) 5683-1154/1142/2838/1533