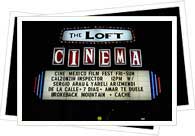 Mexicans are avid film lovers, as is evidenced by the numerous film festivals hosted across the country.
February
International Contemporary Film Festival of Mexico City (Mexico City)
Feast your eyes on 150 international pictures, most of which are already winners in other film festivals (Cannes, Berlin and Venice).
March
Guadalajara Film Festival (Guadalajara)
This is probably the oldest and most significant film festival in Mexico. The festivals covers feature-length films, documentaries, shorts, and children's films.
April
Newport Beach Film Festival (Rosarito Baja California)
Here, you can also see yacht parties and galas as well as film screenings of hundreds of feature-length films, documentaries, animated movies and shorts.
International Film Festival (Guanajuato)
This film festival features documentaries and films the world over. Every year, the festival organizers select a country to be featured. This country's film culture, history and styles are then shown in more detail.