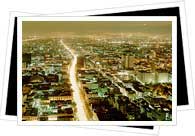 Mexico City, Mexico's capital, has a lot to offer its visitors. There are monuments and buildings in the city center, archaeological sites nearby, museums featuring a wide range of interests and subjects, and modern bars and restaurants for an enjoyable nightlife.
Sights and Experiences in Mexico City
Museums: Mexico City means museums galore! There are quite a number of art, history, and archaeological museums in the city. There is the museum of Frida Kahlo, the Fine arts Museum, the National Museum of Anthropology and so much more.
Zocalo (Plaza de la Constitucion) – This is the heart of the city, the square is the second largest public square (second only to Moscow's Red Square). This center has been declared by UNESCO as a World Heritage Site, because of the many cultural and historical treasures to be found in the Zocalo. Here, you are just some attractions you can visit:

The Templo Mayor. The ruins of the temple of Tenochtitlan
Catedral Metropolitan. This striking parish church is made of red stone and is in the Churrigueresque style. This is the biggest religious structure in Latin America.
Palacio Nacional. The Palacio Nacional is built in the very site of Moctezuma's castle. Today, it houses the office of the President, and the Federal Treasury and National Archives offices. The palace also features murals by Diego Rivera. o Palacio de Mineria
Post Office (Edificio de correos)
The Palace of Fine Arts (Palacio de Bellas Artes)
Zona Rosa. The Zona Rosa is the romantic side of Mexico city, where you can feast on local and international cuisine served in the many fine-dining restaurants.
Xochimilco. This is renowned for its floating gardens
Chapultepec Park. This is a great place to relax and unwind.
What to do in Mexico City: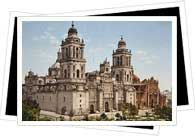 Visit the amusement parks. You can go visit the La Feria de Chapultepec (which has the oldest roller coaster in Mexico) and Six Flags Mexico (Latin America's largest).
Go on specialized tours. There are tours that provide a fascinating glimpse of the city's character. Two such tours are the Journeys Beyond the Surface and the Yollohtli Tour.
How to get to Mexico City:
Most travelers choose to enter Mexico by air. The city is serviced by the Benito Juarez International Airport. There are international airlines that have regular flights to Mexico City.