Mexico has over 150 museums! Throughout the country, you can immerse yourself in museums of art, archaeology, history, architecture, and even subjects like stamps, photography, sports and medicine.
Of course, we would be hard-put to list all of the museums in Mexico, so we just chose some of the best and most popular:
Museo de Arte Moderno (Museum of Modern Art)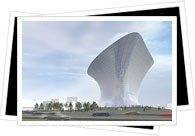 This collection of modern art by Mexican artists features Mexico's most significant 20th century artists – such as Rivera, Kahlo, Orozco, Tamayo, O'Gorman and Siqueiros. Aside from paintings, the museum also has sculptures, photographs and lithographs.
Address:
Reforma and Gandhi, Section 1 of Bosque de Chapultepec Park
Mexico City
Telephone: +52 5 553 6233
Palacio Nacional
This is the government seat – where the president and the Finance Ministry hold office. It was built on the ruins of the Aztec temple, the former palace of Moctezuma and Cortes. It also displays some of the murals of Diego Rivera, which gives a vivid picture of the country's history.
Address:
East side of the Zócalo
Mexico City
Museo Frida Kahlo (Frida Kahlo Museum)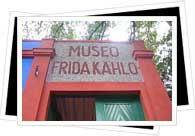 This was the artist Frida Kahlo's house until it was turned into a museum. She and the artist Diego Rivera, Mexico's first couple of art, lived there. It offers an interesting glimpse of the artists' lives. You can see Frida Kahlo's individuality – from the knick-knacks in her room, to her kitchen to the big paper-mache skeletons outside the house. There are also costumes, letters and diaries.
Address:
Londres 247
Allende, Mexico City
Museo Nacional de Antropologia (National Anthropology Museum)
Designed by Pedro Ramirez Vazquez, this is perhaps one of the world's best anthropological museums, with an extensive collection of artifacts that span 3,000 years of Mexico's past, including the art and culture of indigenous cultures. The museum spans some four square kilometers and 23 exhibition halls.
Address:
Section 1 of Bosque de Chapultepec
Mexico City
Palacio de Bellas Artes (Palace of Fine Arts)
This stunning white-marble arts center and concert hall was commissioned by President Porfirio Diaz and designed by Adamo Boari, an Italian architect. It contains artwork by Rufino Tamayo and murals by Orozco, Siqueiros and Rivera. The building has a art deco façade, trimmed with pre-Hispanic motifs. At times, there are temporary art exhibitions, plus a bookshop with a great collection of magazines and art books. There is a stained-glass stage curtain, which is magnificent with its one million pieces of colored glass. The Palacio de Bellas Artes is home to both local and international productions.
Address:
Eje Central Lazero Cardenas and Avenida Juarez
Mexico City
Catedral Metropolitana (Metropolitan Cathedral)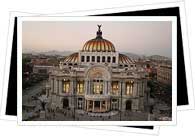 Beside the Palacio Nacional in Zocalo, Mexico City, this cathedral is an example of how neoclassical, Mexican churrigueresque and baroque architecture. The cathedral is also the largest religious structure in Latin America. The stones used to build this cathedral were taken from the ruins of Aztec temples. This is also a museum as it houses religious art and icons.
Address:
Avenida 16 de Septiembre
Mexico City