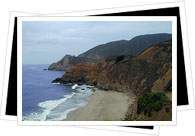 The Pacific Coast is an infinitely beautiful region of Mexico, filled with rustic sceneries, relaxing beaches, mountains, valleys and tropical forests. Located in western Mexico, this region encompasses around 1,000 miles from the Sinaloa state to the Oaxaca state. Here you will find quiet towns that offer a wealth of culture and culinary treasures. It also has great beaches for you to indulge in watersports, particularly fishing and surfing.
The climate in the Pacific Coast is varies with the landscapes; up in the mountainous terrain of the Sierra Madre del Sur the weather tends to be cool, while along the coast you can soak up plenty of perfect beach weather.
The Pacific Coast is also home to all the typical tourist trappings and amenities, namely golf courses, resorts and a vigorous nightlife. If you are opting for more quiet haunts, visit sleepy coastal towns. The region also has a desert, some vegetable and fruit plantations and colonial cities that are sure to be of interest to you.
In Puerto Vallarta, laze on the beach with lush tropical forests as your background. Guadalajara is your shopping destination of choice, while you should head to Taxco for its silver products. In the Guerrero state, you can visit the beach towns of Ixtapa and Zihuatanejo. Acapulco is also a must-see city. There are also the stunning beaches of Huatulco, and beach villages in Puerto Angel and Puerto Escondido. Nayrit is rich in ancient traditions and lore of Cora and Huichol Indians, you will surely find the multicolored handicrafts of beads, cloth and wood fascinating. Then there is stunning Guadalajara, the resort town of Costalegre, and El Volcan de Fuego.
These are just some parts of the Pacific Coast. There are more for you to explore and discover. All in all, the Pacific Coast has something for everybody. There are chic world-class resorts, gourmet restaurants and great shops for the ultimate vacationer and sparkling waterfalls and luxuriant jungles for the adventurer.