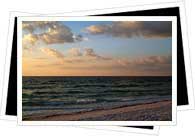 The Gulf Coast is flanked by two bodies of water - the Pacific Ocean and the Gulf of Mexico - which makes it home to the most diverse and remarkable ecosystems in the world. The Gulf coast is rich in culture, traditional and natural resources. It is also home to the states of Veracruz, Tabasco and Chiapas.
The major cities in Chiapas are Tuxtla Gutierrez (also the capital city), Tapachula, San Cristobal de las Casas and Comitan. Tabasco has for its major cities Villahermosa (capital) and Teapa. Veracruz, whose capital is Jalapa, has for its major cities Tuxpan, Veracruz, San Andres Tustla, and, Papantla.
Because of its proximity to the sea, the region has semi-tropical and tropical climates, with average temperatures on the upwards of 25° C.
There is a wealth of marine wildlife in the Gulf Coast. After all, it is the habitat of the Atlantic spotted dolphin, the whale shark and the manatee.