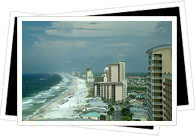 Gulf Coast Highlights
Tabasco
Home of great natural attractions, such as the ecological parks in Tacotalpa (Kolem Jaa and Yumka), and the Coconut Caves. There is also the La Venta Park and Museum. In Villahermosa, you can go visit the Carlos Pellicer Camara Regional Anthropology Museum.
Chiapas
In Chiapas you can find the the Agua Azul waterfalls, the Lacandona jungle and the Sumidero Canyon. Visit the Mayan ruins in Palenque, Talachula and San Cristobal de las Casas.
Varacruz
Here, you will find El Pico de Orizaba, which is Mexico's tallest mountain. Natural wonders abound – such as the La Cascada Salto de Qyipantla waterfall and the Chacalacas Park. At El Tajin, an archaeological zone, you get to witness the famous Papantla Flaying Men.
Things to do in the Gulf Coast
Whale and marine wildlife in the Gulf Coast
Go on an adventure sports tour – sports fishing, rock climbing, kayaking, scuba diving and rafting in the Emerald Coast
The Olmeca region not only has numerous places to visit, but it's also home to the manatee, the Atlantic spotted dolphin and the whale shark. The strip of beach resorts in Veracruz, known as la Costa Esmeralda (the Emerald Coast), which stretches from Nautla to Tecolutla, is ideal for scuba diving, sports fishing, rock climbing, rappelling, rafting and kayaking.