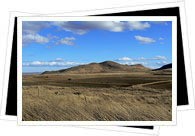 Here in the North Central Region, you will see a mix of deserts, dunes and mountain ranges. The region, whose shape resembles a funnel, runs from the border of Texas and New Mexico down to Mexico City and other colonial cities. A great portion of the region is occupied by the Coahula/Chihuahua desert, flanked by two Sierra Madre ranges. The North Central states include Chihuahua, Nueva Leon, Tamaulipas, Coahuila, Sonora, Durango and Zacatecas.
In Chihuahua, you have the cities of Chuhuahua, Hidalgo del Parral and Ciudad Juarez. In Coahuila, the major cities are Saltillo (the capital), Monclava, Torreon and Piedras Negras. While in Nueva Leon, whose capital is Monterrey, you will also find the city of Cerralvo. The state of Tamaulipas, has the major cities of Ciudad Victoria (capital), Tampico, Nuevo Laredo, Matamoros, and Reynosa.
The Durango State's capital is Durango city. Its other major city is Gomez Palacio. The state of Sonora has Hermosillo (capital), Nogales, Ciudad Obregón, Guaymas, Alamos as its major cities. Zacatecas has Zacatecas City and Fresnillo.
The climate is quite hot in the summer, with temperatures reaching scorching levels (the average is 36º C), while in the winter the temperature drops down to below 0º C.