Highlights of North Central, Mexico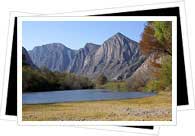 North Central Highlights
Coahuila. Coahuila is great for camping and photography. Plus, the sights of the hot spring in Cuatro Cienegas are simply breathtaking
Chihuahua. Witness the art and culture of the Raramuri Indians in this ancient structure in Paquime.
Sonora. Beach resorts in Bahia de Kino, Guayamas, Puerto Penasco and San Carlos; the Altar Desert (Gran Desierto del Altar) amd the El Pinacate biosphere reserve have recently been declared UNESCO World Heritage sites.
Zacatecas. Colonial cities and archaeological zones. View the cities from way up high riding the cable car from Cerro de La Bufa.
Tamaulipas. Drop by the El Complejo Cueva Diablo, amongst the oldest archaeological zones in the country, and explore the rich flora and fauna of the El Cielo biosphere reserve.
Durango. Camp at the (the Zone of Silence) Zona del Silencio, which is said to block out radio transmissions because of its unique atmosphere. There is also the La Sierra de Organos national park, which boasts of fascinating rock formations.
Nueva Leon. Ttry the roast goat-kid (cabrito), which is a traditional dish in Nueva Leon.