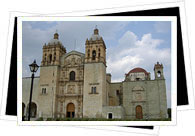 Located in southern Mexico, Oaxaca actually belongs to the Pacific Coast but merits its own spot as it is a favorite destination. Its beaches are mostly unspoiled (such as those in Puerto Escondido and Zipolite). There is even a nude beach in Zipolite, which is fast gaining popularity.
This is also considered as the southern land of the Maya, Miztec and Zapotec cultures. You can explore scenic ruins, colonial cities and Indian villages. There are also archaeological sites in Mitla and Monte Alban (which was declared a World Heritage Site by UNESCO).
Oaxaca State has these major cities: Oaxaca City (Capital), Huatulco, Puerto Escondido, and Tehuantepec. This region enjoys relatively mild and warm weather all year round, meaning you can visit this region literally any time of the year.
The region is rich in arts and cultures, with particularly excellent craftsmanship in weaving and pottery. Oaxaca is also home to famous artists such as Francisco Toledo, Rufio Tamayo and Rodolfo Morales.
Oxaco exudes a warm and relaxed atmosphere, that, when coupled with its perennial spring weather, makes for a highly enjoyable vacation. You can amble along the streets as you look at the imposing churches, colonial architecture and enjoy the hustle and bustle of the city's colorful life.