Highlights of Oaxaca and Chiapas, Mexico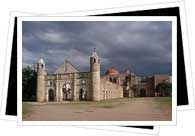 Oaxaca Highlights
Monte Alban. A fascinating archaeological site which is also a World Heritage site.
Mitla. A city which was once reserved only for Zapotec high priests.
Churches. There are around thirty churches to see in Oaxaca City
Día de los muertos (Day of the Dead). This celebration, which is held on November 2nd every year, sees locals honoring dear and dearly departed loved ones with elaborate in-house altars which are, in themselves, fascinating works of art.
Festivals: Oaxaca also has other festivals worth celebrating, such as...

Guelaguetza (July)
Festival dedicated to the gods for a bountiful harvest. The region's seven indigenous cultures are represented and these perform dances and songs and display native products during the festival.
Festival of the Radishes (Late December)
A festival in which radishes are cooked up and beefed up. It's incredible to watch how artisans sculpt fantastic works made of simple radishes!
Las Calendas (December)
A colorful affair with costumed dancers and floats parading throughout the city of Oaxaca. There are also giant paper mache people and marmotas (paper lanterns) in the parade.
Things to do in Oaxaca
Food trips. Get a taste of Oaxaca's typical food dishes, such as the mole, enchiladas and quesadillas. At the zocalo, you can find stalls which sell meat and chorizos cooked over an open charcoal fire.
Shopping. There are great bargains to be had. Oaxaca is known for the craftsmanship of its products.
Golf. Oaxaca also has a number of golf courses that you can enjoy.