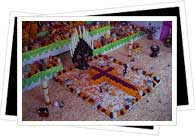 The Día de los Muertos (Day of the Dead) takes place between October 31st and November 2nd. The highlight of the festival is November 2, the day following All Saints Day. This magical and colorful festival commemorates the belief that, on this day, the souls of the departed return to the earth. They are met with elaborate paper-mâché skeleton themed decorations in homes and storefronts, and elaborate altars are adorned with marigolds (the flower of the dead).
Though the Día de los Muertos is a festival honoring the dead, is is by no means a somber event. Instead, you see the Mexican sense of fun. The locals dress up in fancy Halloween costumes, as skeletons, mummies and ghosts weave their way through the streets. An open coffin is carried through the town and, as it passes, people in markets and shops throw food, gifts and flowers into the coffin.
With so much excitement and merriment, this is one of the most visited events in Mexico.