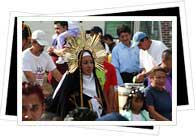 Holy Week - or Semana Santa - in Mexico is a a passionate display of religious reverence and festive pageantry. All week long, you will see processions, altar displays and passion plays.
In most cities in Mexico, people reenact the Passion of Christ, including the Last Supper, the Betrayal at the Garden of Gethsemane, the Judgment, the 12 Stations of the Cross, the Crucifixion and the Resurrection. These are wonderful and elaborate productions. Here, you will once again see the intermingling of pre-Hispanic and Catholic beliefs, as brilliant Aztec colors and ancient dances are incorporated into the religious festivities.
The cities that are most popular with this tradition are Mexico City, Zacatecas, San Cristobal de las Casas, Taxco, Patzcuaro, and San Luis Potosi.
The activities begin on Palm Sunday, where people reenact the scene of Jesus' grand entrance to Jerusalem. On Holy Thursday, people go visiting seven temples and commemorate the Last Supper. In some cities, there are also processions, in which people holding candles solemnly march along with floats depicting scenes from the Passion. Other penitents even wear hoods as they march in the procession.
On Good Friday, people remember the crucifixion on Jesus on the cross. Easter Sunday is a joyous time for the whole country as it is a day of celebration, complete with cultural activities, music and dance. In some cities, there are resurrection plays which reenact the glory of Christ's triumph over death.