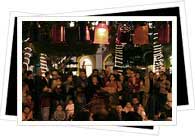 Mexico has plenty to offer once the sun goes down. Mexicans are basically a fun-loving people, which can be seen by the sizzling nightlife they have as they party the night away. It is about drinking parties and dance-till-you drop affairs. Cancun has especially gained popularity for its endless drinking parties which are attended by locals, those on summer or spring break and just about everybody who is ready to party the night away.
With tourists flocking to Mexico, the beach resorts and the cosmopolitan cities become party hotspots come nightfall. Here, you will find a profusion of salsa clubs, dance clubs, bars and pubs. The most popular of these can be found in Acapulco, Cancun or Puerto Vallarta. Even seasoned fun-seekers will come away fully satisfied with the nightlife to be enjoyed here.
And mind you, when we say "nightlife," this does not just mean trendy club scenes but also theater, ballet shows and other cultural events. That's right, the nightlife in Mexico is diverse, with just about every form.
The parties usually start late at night. A friendly reminder: the minimum age for drinking alcohol in Mexico is 18 years old.