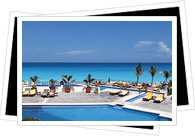 Next stop on our list of favorite tourist cities in Mexico: Cancun.
Cancun belongs to the state of Quintana Roo and is blessed with natural beauty that has long attracted sea-lovers from around the globe. Its magnificence is not just skin-deep with its smooth white sand and azure waters. Look more deeply and you will see that underneath the calm waters, there are sea creatures of dazzling color and beauty. to be found in its coral forests.
In addition to the sea and all its bounties, you can also explore the archaeological sites of the Mayans – Tulum (the walled city), Coba (one of the big Mayan cities in the region) and Kohunlich (a treasure trove of Mayan architecture). Also consider visiting Chichen Itza or Uxmal while you're in the area.
As for the weather, Cancun, of course, enjoys a tropical climate ideal for the beach life. Avoid going there in the summer or early fall – these are the times when hurricanes are most likely to hit Cancun.
Cancun was only "discovered" thirty years ago. Before that, it was nearly deserted – a virgin island. Then tourism burst forth and made it the bustling city it is today.
Here are some sights and experiences in Cancun: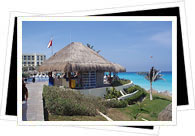 The sea!
Cancun sits on the northeast tip of the Yucatan Peninsula. It boasts 550 miles of coastline and the second largest reef barrier in the world. Thus, it is paradise for those who love to snorkel and scuba dive. Its geographical set-up (the island is shaped like an "L") creates a protected lagoon that is perfect for water skiing and sailing. Out in the open sea, you can try diving and deep-sea fishing. As if these weren't enough, the beaches of Cancun, with blue Caribbean waters and fine-grained white sand, are some of the best in Mexico.
Interactive Aquarium
This interactive aquarium is a once in a lifetime chance to swim with dolphins and get close to the natural habitat of the sea's many creatures. This modern and equipped aquarium allows you to pet sharks, rays and other marine life.
Xcaret
This nature preserve park offers snorkeling and swimming experiences coupled with the chance to get to know more about the history of Mexico and Cancun. It regularly stages a song and dance show called the Xcaret de Noche.
Xel-Ha
This outdoor theme park allows you to swim with the dolphins or snorkel under creeks and caves. The park also houses tropical animals, such as birds, sting rays and barracudas.
Tulum and other Mayan sites.
Chichen Itza Ruins
Visit the famous ruins of Chichen-Itza, located approximately 2 hours from Cancun.
What to do in Cancun:
Discover the lagoon and the reef. Rent a Jetski or a Jetboat and explore the lagoon, then try some snorkeling.
Jeep Adventure. Drive yourself to Mayan ruins, towns near Cancun or a cenote (an underground river that is great for swimming) nearby.
Party the night away! Cancun is, after all, a tourist hotspot and so has a very active and thriving nightlife.
Bring a huge shopping bag and get ready to haggle you way into worthy souvenirs and keepsakes. You can shop at the markets, at La Isla Shopping Mall, even on the beach!
City hopping. Visit Playa del Carmen (45 minutes from Cancun), Puerto Morelos (20 minutes) or Merida.
How to get to Cancun
You can get to Cancun by plane via the Cancun International Airport, which is just 6 miles from the hotels.