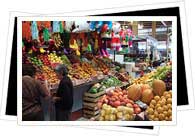 Mexico's covered and street markets are adventures in themselves. You can find yourself lost in a labyrinth of stalls and shops that are hawking a wide variety of products. Get ready to soak up Mexico's market culture and haggle yourself a good deal or two!
Here are some tips when making your foray into the markets of Mexico:
1. Bring small bills. Better yet, use the exact change when making your purchase.
2. Be alert. Mexico's markets are not just the hunting ground for bargains, it is also a hunting for those planning to make an easy buck by picking pockets. Secure bags and wallets. If you have a belt-bag, use it.
3. Make a purchase! Don't leave the markets empty-handed.
Here are the bazaars and markets you should take note of when in Mexico:
The Markets of San Cristobal de las Casas: These markets sell gorgeous pottery, genre dolls and waist-loomed wool. It has a certain charm as the city is located deep in the heart of the Maya highlands.
Saturday Bazaars in San Angel: A great place to buy exquisite handcrafted items. Here, you can also find antiques, collectibles and furnishings.
Market in Central de Abasto: This is said to be the world's largest wholesale market – it is like a city in itself. It sells dried goods, vegetables, dairy and produce. It also showcases quite a great deal of Mexican culture and everyday life.
San Juan Market: For chefs and aspiring cooks, this market is the place to find the best produce and the unusual ones. Here, you can find fruits and vegetables that are not available in other markets, meats and innards, meat products (the Spanish jamon serrano and chorizo), the freshest of seafood, and a wide variety of local and imported cheeses.
The Market in Medellin: Great place to buy ingredients for making Yucatan cuisine, namely red onions, red hot chilies (the habanero kind), bitter limes, and fresh banana leaves. You can also get tips from the vendors on how to cook Yucatan cuisine.