In Mexico, you can come away with more than the usual souvenirs and curios. Believe us, you will get much more than your ordinary "I went to Mexico and all I got was this t-shirt" shirts, postcards and keychains. Here, you will find a variety of items that will have you happily parting with your pesos.
One of the best places to get traditional local products would be at a regional fair. Events such as these are aimed to showcase the best products that the region has to offer. If you happen to be in a place that currently has a regional fair, be sure to visit it.
Mexico Products: What to buy
Aside from the fresh and native
food
and ingredients that you will find in the markets, these are some of Mexico's most popular products:
Silver jewelery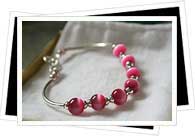 Taxco is Mexico's silver capital and the best place to get fine silver jewelry and other decorative objects. This is where you will find the most gifted silversmiths, who are able to transform silver into exquisite works of art. Be sure to buy items that bear the mark .925 (which means that the silver is 92.5% pure).
Art crafts
San Miguel de Allende has more than the typical handicrafts, these items are eye-catching and highly interesting and will make great conversation pieces back at home. Other art crafts may be found in Michoacan and Patzcuaro.
Decorative Arts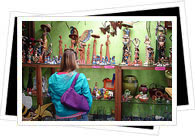 Tonala and Tlaquepaque are two areas where you can spend hours browsing and selecting decorative art for your home and as gifts. Tonala has artisans that produce and sell their creations in the street markets.
Art by Huichol Indains
The Huichol Indians are one of the remaining indigenous cultures that maintain their culture, traditions, language and art. They sell their artwork via galleries in Puerto Vallarta. These artworks are usually made with beads pressed into wax or made with colorful yarn.
Textiles
Colorful textiles produced by natural dyes, woven rugs, embroidered dresses and bags may be found in the Oaxaca valley. Other traditional towns also produce colorful textiles.
Bead Jewelry
Artisans have long been producing fine handmade bead jewelry. These may be found in the markets in lots of cities.
Linens
Wall hangings, blankets, rugs and tablecloths are usually brightly-colored and gaily designed. These are to be found in markets virtually everywhere.
Carpets
Hand-knotted carpets may be found in Temoaya, which is renowned for these products. These are colorful and gaily decorated items excellent for decorating your home.
Contemporary Art
Mexican art is fast becoming recognized and appreciated. Be sure to visit the galleries in Mexico City. These galleries feature Mexico's up-and-coming artists as well as their masters. Other cities renowned for its contemporary art are: Puerto Vallarta, San Miguel de Allende and Oaxaca.
Sweets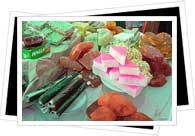 In the markets, you can find numerous candy stands. Mazapan (made from pumpkin seeds), candies made from amaranth seed and other tasty treats. The best may be found in Nuevo Leon, Puebla, Guanajuato, and Morelia.
Clothing
Mexico is known for its colorful traditional clothing, usually embellished elaborate embroidery and made out of cotton.