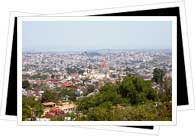 San Miguel de Allende – Mexico's version of Malibu. Its beauty has attracted the wealthy Mexicans and some Americans to make their home here. This Spanish colonial town and art colony is also a government-protected heritage site.
The weather is perfect for relaxing. It reminds you of the lazy, tranquil air of Palm Beach, where you feel that you could just lie in the hammock all day, interspersed with some time on the beach, of course. Even though summers can be hot, the air from the mountains, make it bearable, even enjoyable.
Originally christened as just "San Miguel," the "de Allende" part was later appended in honor of the independence hero, Ignacio Allende.
Sights and experiences in San Miguel de Allende: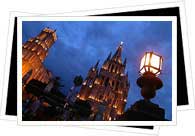 - Zocalo: The locals call this El Jardin. It is San Miguel's main square.
- Paroquia de San Miguel Arcangel (Saint Michael the Archangel Parish): Located at the Zocalo, this pink granite structure stands out because of its color.
- Museums and galleries: There is the Heart of Frida Exhibition Private gallery, which has in its collection drawings and letters that the Mexican artist did just before she died. Another museum is the Museo Casa Ignacio Allende, which is the home of one of Mexico's independence heroes.
- Buildings – there are many historical and colonial-style building in the city. Examples are: the Casa Mayorazgo de La Canal, The Inquisition House, and the Templo de la Concepcion church.
- Charco del Ingenio park: This botanical park has an extensive collection of cacti. Take care that you don't get pricked!
What to do:
You can simply amble around the town, looking at the colonial buildings gracing the streets.
- Party with the locals. San Miguel has a lot of festivals that you can take in and enjoy. During the Holy Week, you can bask in the religious atmosphere coupled with poignant parades Mid-June, you can celebrate the Dia de las Locos. Independence Day (September) and New Year's are also a good time to come and celebrate.
- Shop: The streets (particularly in Jardin) are lined with shops selling local handicraft, art and other souvenirs. In the Ignacio Ramirez market, shop for highly affordable silver and bead jewelry, tiles, mirrors and other home accessories.
How to Get There
San Miguel de Allende is quite remote, and may take some effort to reach. When from Mexico City, it is half a day's drive. Driving to San Miguel is not recommended for first time drivers in Mexico. The roads going to the town are winding and quite narrow. We recommend that you take either a taxi or a bus from Mexico City. You can also opt for a combination of plane and taxi or bus. You can get into Leon or Queretaro and then take a cab or bus to the town. The trip will take one to two hours.