Land of contrasts, Mexico combines the flamboyant and colorful with the magnificent, the mystical and magical. Here, you can witness the exuberant one moment and the hushed and tranquil on the next.
Mexico is also home to diverse tourist attractions – historical cities, archaeological sites, buildings that bear witness to Mexico's rich cultural heritage, beautiful beaches, cosmopolitan cities, natural parks and a rich geographical landscape.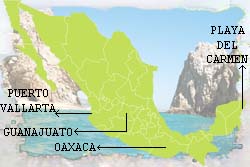 Learn here The History of Mexico from the last days of the Aztec empire up to its present day multiculturalism.
Culture & the Arts
Mexico is so diverse a land that it will take quite some time to take in its culture and arts scene. Learn about Mexico's architecture, art scene, music, and festivals... Read more
Trips
Trips If you are a fan of traveling and sightseeing, Mexico is the place for you! If you decide to visit the ancient ruins of Tikal or visit the northern territories of Sonora, the country is a breathtaking paradise in its entirety... Read more
The weather of Mexico is as varied as its landscape -rainforests, incredible beaches and seaside cities, wild tropical storms, high mountain ranges and low desert valleys-, which ends up producing an incredible autochthonous variety of flora and fauna.
Visitors to modern day Latin America will feel like millionaires as the comparably weak Latin American economies allow our currencies to go so much further. Fresh local produce is always on the menu, with delicious latin food accompanied by smiling faces and the relaxed daytime lifestyle is contagious to even the most hardened workaholic who pays a visit.
The music culture in Mexico is rich and varied, and it makes the best complement to a great night out in the city.
Whether you are a trekking lover, a passionate beach fan, a frustrated archaeologist, an exploring musician or a food lover, Mexico has something for you! The culture and lifestyle of Mexico will captivate you and show you a whole new world where dreams and reality often adopt confusing appearances. Visit Mexico and feel the magic in the everyday life.
How to Use this Guide
We wish to offer you a thoroughly elaborated guide that contemplates every aspect of your trip to Mexico, from the moment you prepare your luggage to useful practical information that will be of help upon your arrival.
With this useful travel guide you won't miss a detail or a must-see visit, and you will also gain interesting and practical knowledge about the customs, traditions, and social rules of the Mexicans.