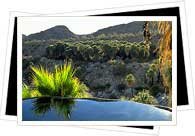 Located in the northwest region of Mexico, Baja California is a peninsula that stretches some 870 miles, from Cabo San Lucas at its southern tip up to Tijuana at its northern tip. Bordered on the north by the United States, Baja California is flanked by the Pacific Ocean and the Sea of Cortez, and has some of the most beautiful beaches in Mexico.
This isolated region of Mexico is a perfect setting for your ideal beach vacation with its posh resorts, stunning white sand beaches, dazzling sunsets, and clear waters. There are facilities for diving, fishing, whale watching and even golf. The climate in the Baja is very ideal, yielding mostly sunny days and an average annual temperature of 25° C (an average of 15° C in the winter and 30° C in the summer.
Baja California is divided into two states: the northern half (Baja California) and the southern half (Baja California Sur). The region is home to the following cities: Cabo San Lucas, Bahia de Los Angeles, Ensanada, Guerrero Negro, La Paz, Loreto, Mexicali, Mulege, Rosarito Beach, San Felipe, San Ignacio, San Quintin, Santa Rosalia, and Tijuana.