Highlights of Baja California, Mexico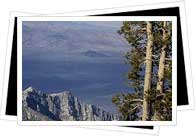 Baja California Highlights
Ensenada. With its lush vineyards, this town is a sure hit.
La Laguna Ojo de Liebre. This offers you great whale watching opportunities
Tijuana. This border city enjoys immense popularity thanks to its cultural center and sports (dog racing and bullfights). It is also credited for its contribution to the world – the Caesar salad. Mmmm!
Rosarito. A popular scuba diving and fishing spot. Jump in!
Baja California Sur Highlights
Los Cabos. Home of Mexico's ritzy resorts, spas, and golf courses
La Paz and Loreto. Here, you can enjoy a variety of watersports – surfing, fishing, scuba diving, windsurfing, kayaking, and whale watching.
Sierra de San Francisco. A mountain range boasting old missions and cave murals
Other activities...
Off Road races (the SCORE Baja 500 and Baja 1000) draws a crowd of locals and tourists. The races traverse the far-flung areas of the Baja Peninsula.
Do try the fish tacos or any of Mexicali's Chinese restaurants. Prepare your stomach for a sumptuous treat!