Mexico, with its fine beaches, coves and coral reefs, is a perfect place for you to enjoy a wide variety of watersports. With Mexico's tropical weather, the beach is the perfect way to cool off during sizzling summers. In the winter, the waters are still mild so that you can still enjoy a dip in the waters.
Surfing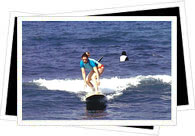 Along the Baja California all the way to Chiapas, you will find beaches that are perfect for surfing. The favorite surfing locations are in Puerto Vallarta, in Los Cabos (Cabo San Lucas and Todos Santos), in Ixtapa/Zihuatanejo, Puerto Escondido, Huatulco, Mazatlan, and Acapulco.
Rafting and Kayaking
Experience the peace of rowing along the tranquil beaches and lakes of Mexico. For white water rafting experiences, you can go to the state of Veracruz. Two notable rafting sites are Rio Pescados and Rio Antigua. Other rafting sites include the Lacantum River in the state of Chiapas. For kayaking, try the beaches of Acapulco, Cancun, Huatulco and La Paz.
Sports Fishing
Mexico is host to some of the biggest sports fishing events in the world. There is plenty of reason for this as Mexican waters are the habitats of marlin, tuna, mahi-mahi and others. Mexico is the place to be when it comes to sports fishing.
Boating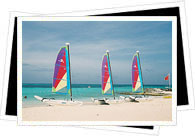 Bring your boat or rent one and cruise along the waters of Mexico, exploring the numerous coves at your own leisurely pace. There are great joys in feeling the salty air on your face and the sun above you. These are among the rewards of going boating and these can be yours in Mexico.
If you are planning to bring a boat to Mexico, remember to have the following documents with you:
Title of the Boat, if you own the boat, or a lease agreement if you rented the boat
Proof of citizenship or residency in a foreign country
Depending on the way you plan to enter Mexico:

If you enter by sea, a departure clearance from the original point of departure
If you enter by land and bring the boat by trailer, the title of trailer (or the lease agreement if the trailer is rented)
Mexico is also host to the ROLEX/IGFA Offshore Championship. Held in Los Cabos, Baja California Sur, this is attended by more than 60 teams from 33 countries.
Diving
Drink in the beauty of Mexico's coral reefs and underwater world. Most beaches have diving equipment available for rent. Every June there is the Mexico Underwater Dive Show in Cozumel, Quintana Roo.