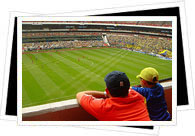 Mexico is soccer-crazy! Half of the fun is watching how enthusiastic and involved Mexicans are in the soccer culture.The other half, of course, is watching the locals play a very good game.
Mexico began its foray to the World Cup in as early as 1930, where it lost all its matches and finished way at the bottom. Mexico tried again in 1950, but it was only in the 1970's where Mexico was able to qualify for six consecutive World Cups.
Since then, especially during the 1990's, Mexico has displayed more consistency in gaining international success with the sport. In 1993, it placed second to Argentina in the Copa America. It has also earned third place in 1997 and 1999 and second in 2001 in the same cup. 1999 saw Mexico hosting and winning the 1999 FIFA Confederations Cup by beating Brazil.
On the domestic front, the domestic league, the Primera Division de Mexico, has increased in terms of the football prowess of the different teams. It also helped that the Mexican football clubs rank high among the richest clubs outside of Europe.
Soccer Teams in Mexico
Mexico National Soccer Team
Bearing the nickname, El Tri (for El Tricolor), this member of the Federacion Mexicana de Futbol Asociacion has been a active player for the different leagues and cups. It is led by Rafael Marquez (Captain), with Hugo Sanchez Marquez as coach. In Mexico, it may be seen playing in its Home Stadium (Estadio Azteca).
FIFA: It garnered its highest ranking of 4th place last May 2006 and 21st place (it lowest) last January 2007.
Elo: The team had its highest ranking of 6th place (June 2005)
World Cup: It played in the World Cup 13 times, and qualified for the Quarterfinals on the 1970 and 1986 games.
CONCACAF Golf Cup: The team won this cup 4 times (1993, 1996, 1998 and 2003)
Confederations Cup: It won this cup in 1999.
Local Soccer Teams in Mexico
For the local level, we have the Federacion Mexicana de Futbol Asociacion, which has four professional categories of the Mexican league, namely,
Primera Division de Mexico
This currently (2007) has 18 teams, namely
America

Atlante

Atlas

Chivas

Cruz Azul

Jaguares

Monterrey

Morelia

Necaxa

Pachuca

Pumas UNAM

Queretaro

San Luis

SantosLaguna

Tecos U.A.G

Tigres U.A.N.L

Toluca

Veracruz
Primera "A"
This is the second level of football in the Mexican League System, and has the following teams:
Academicos

Real Colima

Cruz Azul

Sinaloa

Alacranes

Ciudad Juarez

Leon

B.U.A.P

Mexiquense

Monterrey A

Morelia A

Salamanca

Puebla

Pumas Morelos

Santos A

Celaya

Tampico Medero

Tapatio

Coatzacoalcos

Tigres Los Mochis

Tijuana

U.A.G.

U.A.T.
Segunda
This is the third level in the Mexican League System and is comprised of a lot of teams from different zones. The zones are: South, Central, Bajio, Occident and North.
Tercera
This is the fourth level in the Mexican League System.