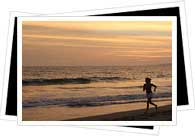 As if the previous sports mentioned were not enough, you still have more choices when it comes to sports:
Jogging and Running
There are many enjoyable tracks where you can jog and run, be it across the mountain trail, along the beach, or through the many parks in the country.
Every year, the city of Torreon, Coahuila hosts the traditional LALA International Marathon. With cash prizes galore, this marathon is attended by thousands of national and international runners.
Rally Racing
There are also numerous sites where you can watch rally racing. Mexico's mountainous regions and majestic plateaus, deserts ad forests provide an excellent backdrop to this event. Rally races are usually accompanied by festivities; food, dancing and music play an integral part in the races.
Polo
For polo enthusiasts, visit www.mexicopolo.com for more updated information on games and events.
Tennis
Every year, Acapulco, Guerrero hosts the Mexican Tennis Open. This is among the most important tennis event in Latin America. In fact, it currently ranks fifteenth in the world.