A la bio, a la bao, a la bin bon bah, rah, rah, rah!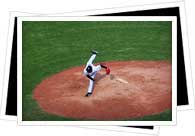 Find yourself cheering along with the enthusiastic crowd as they cheer their favorite team. The noise, the food and the excitement – these are all part of the fun in watching a baseball game in Mexico. These baseball games imbibe a uniquely Mexican flavor that locals and tourists are sure to enjoy.
The baseball games are hosted by the Liga Mexicana de Beisbol (LMB), a professional league that can be likened to America's Triple A minor league baseball. The regular season has 100 games and runs from mid-March to the end of June. The league is divided into a southern and northern zone, and zone winners compete in a best-of-seven playoff series. The postseason runs through the months of July and August.
For tickets, you can go to www.ticketmaster.com.mx. This site sells advance tickets, especially for larger cities like Mexico City, Monterrey and Puebla. Below you'll find the zone divisions and a list of their respective teams.
South Zone
Campeche Pirates (Piratas de Campeche)
Mexico City Red Devils (Diablos Rojos del Mexico)
Minatitlan Oilers (Petroleros de Minatitlan)
Oaxaca Warriors (Guerreros de Oaxaca)
Quintana Roo Tigers (Tigres de Quintana Roo)
Tabasco Olmecas (Olmecas de Tabasco)
Veracruz Red Eagles (Rojos del Aguila de Veracruz)
Yucatan Lions (Leones de Yucatan)
North Zone
Aguascalientes Railroaders (Reileros de Aguascalientes)
Chihuahua Goldens (Dorados de Chihuahua)
Laguna Cowboys (Vaqueros Laguna)
Monclova Steelers (Acereros de Monclova)
Monterrey Sultans (Sultanes de Monterrey)
Puebla Parrots (Pericos de Puebla)
Saltillo Sarape Makers (Saraperos de Saltillo)
Tijuana Colts (Potros de Tijuana)