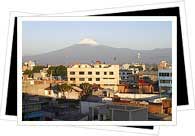 Puebla, or its full name "La Puebla de los Angeles," is a city set dramatically amidst mountains and volcanoes. The city itself is filled with Spanish colonial buildings and has been declared a UNESCO World Heritage Site.
The cuisine in Puebla is also something to look forward to. Puebla is acknowledged as the inventor of the renowned mole, a thick spicy sauce.
The city is also famous for its cuisine, being said it is this city where "Mole" -a famous mexican spicy thick sauce- was invented.
Sights and Experiences in Puebla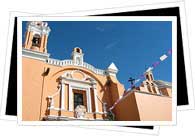 City Center
This downtown area is filled with gorgeous colonial buildings, one of the reasons for which it was granted World Heritage status by UNESCO in 1987.
Los Fuertes (The Forts of Loreto and Guadalupe)
Sitting on top of the Cerro de Guadalupe, these forts have been witness to the Battle of Puebla on 1862. General Zaragoza successfully defended the city from the French forces, an event commemorated each year on May 5th.
Puebla Cathedral
This neoclassical building has towers that are among the tallest in the country.
Los Sapos
Art lovers will revel in this place. Local artists sell their work at the galleries and at the weekend flea markets.
Museums
There are some highly fascinating museums you can visit in this town. There is the Automobile Museum, for one, whihc has a collection of rare, vintage cars. It even has the Popemobile used by John Paul II during one of his visits in the country! There is also the National Museum of Mexican Railroads, where you can find a number of unique examples of railroad implements, passenger coaches, engines, and cabooses.
The Palafoxian Library
This magnificent collection of over forty thousand volumes was donated by Bishop Juan de Palafox y Mendoza. The building itself, the Casa de la Cultura, is a baroque-style structure.
Cholula
This used to be one of the major cities under the Aztec empire. Today, along with a slew of churches, you can see one of the empire's largest pyramids!
What to Do in Puebla
Take a bus tour
These red double-decker "turi-buses" give you a quick view of the city's landmarks.
Visit the African Safari
Here animals from Africa roam freely and you can see them in their natural habitat.
How to Get to Puebla
From Mexico City, you can ride the bus to Puebla from the Benito Juarez International Airport, which has a bus terminal.