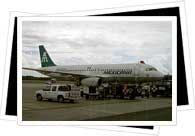 Mexico's airline industry has seen some vast improvement and growth. Currently, there are many new regional carriers that cover more areas. From the United States, the main points for departure of international airlines going into Mexico are Atlanta, Chicago, Dallas, Denver, Houston, Las Vegas, Los Angeles, Miami, New York, Orlando, Philadelphia, Phoenix, Raleigh, San Antonio, San Francisco, Seattle, Toronto, and Washington, D.C.
Bring a current ID (government-issued photo IDs are best, such as your passport or driver's license). Keep this with you and be ready to show it during the security checkpoint and check-in. If you are bringing children with you, be sure to bring their IDs also.
Here is a list of international airports in Mexico:
City/State
State Site Link

Airport
Code

Airport Name

Mexico City


MEX

Benito Juarez International aka Mexico City International Airport (MEX)

Tijuana, Baja Norte

TIJ

Abelardo L. Rodr'guez Intl. aka Tijuana Intl. Airport

Ensenada, Baja Norte

ESE

Ensenada Airport

La Paz, Baja Sur

LAP

Manual Marquez de Leon Intl. aka La Paz Intl.

La Paz, Baja Sur

LTO

La Paz International Airport

San Jose del Cabo, Baja Sur

SJD

San Jose del Cabo International Airport

Manzanillo, Colima

ZLO

Playa de Oro Intl aka Manzanillo International Airport

City of Colima, Colima

CLQ

Colima Airport

Acapulco, Guerrero

ACA

Juan Alvarez International Airport (ACA) in Acapulco

Ixtapa, Guerrero


ZIH

Ixtapa International Airport

Zihuatanejo, Guerrero


ZIH

Zihuatanejo International Airport

Guadalajara, Jalisco


GDL

Don Miguel Hidalgo y Costilla Intl. aka Guadalajara International Airport

Puerto Vallarta, Jalisco

PVR

Gustavo Diaz Ordaz Intl. aka Puerto Vallarta International Airport

Tepic, Nayarit


TPQ

Tepic Airport

Huatulco, Oaxaca

HUX

Bahias de Huatulco Airport

Oaxaca City, Oaxaca


OAX

Xoxocotlan Intl aka Oaxaca Intl. (OAX),

Puerto Escondido, Oaxaca

PXM

Puerto Escondido International Airport

Culiacan, Sinaloa

CUL

Culiacan International Airport

Los Mochis, Sinaloa

LMM

Valle del Fuerte Intl. aka Los Mochis International Airport

Mazatlan, Sinaloa

MZT

General Rafael Buelna Intl. aka Mazatlan International Airport

Hermosillo, Sonora

HMO

General Ignacio P. Garcia Intl. aka Hermosillo International Airport (HMO)
Getting Around: Air Travel in Mexico
There are two large private carriers for the domestic lines – Mexicana and Aeromexio. There are also new players in the domestic airline industry, thus increasing accessibility and availability of flights around Mexico. There are now flights to areas which were not previously serviced.
Other Tips:
Be aware of the current airline restrictions. For security reasons, some items are not allowed in carry-on baggage. Liquids or gels, except for some special cases, are not allowed in carry-on baggage. This includes drinks, shampoo, creams, toothpaste, suntan lotion, hair gel and other similar items.
Be sure to arrive at the airport early, 1 hour before domestic departures and 2 hours before international departures.