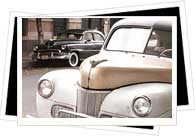 If you are unfamiliar with Mexico's transportation system, its driving regulations and roadways, we don't recommend that you drive to and around Mexico. However, if you value flexibility and the freedom to travel at your own pace and to outlying areas and if you are willing to put up with the inconveniences of driving, then by all means, do so.
Tips for Driving in Mexico
1. Avoid driving at night, as most roads are unlit.
2. Mexicans like to drive hard and fast, so defensive driving is a necessity.
3. Be sure to bring enough cash as credit cards are currently not accepted for gas purchases.
4. Toll fees in this country are amongst the world's steepest.
5. Insurance. When driving your own car in Mexico, be sure to buy Mexican auto insurance, as an insurance policy from the U.S. is considered invalid in the country.
6. Green Angels (Los Angeles Verdes). These lifesavers on patrol cover most major Mexican highways. Driving in green pick-up trucks, these are mechanics that can be called to the scene via the hotline (01) 800 903 9200.
7. Always lock your car.
8. Never drive under the influence, or you may face a night in jail.