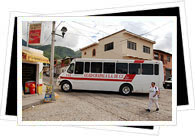 You may take the bus from the United States to the Mexican Border. Then, you cross the border and take another bus into your selected city in Mexico. This choice is primarily for those on a budget and want to stop in towns north of the country. However, if you are planning to go deep into Mexico, the plane may be a better option.
There are several border towns that you can pass through.
Here is a breakdown of the border towns, the destination inside Mexico and how long it would take to travel from the border to your city of choice.
Border Towns

Destination

Time

Distance
San Diego, CA
Tijuana, BCN
Cabo San Lucas
Guadalajara
Mexico City
24 hours
36 hours
41 hours
1,053 miles / 1,694 kms
1,433 miles / 2,306 kms
1,770 miles / 2,848 kms
Nogales, AZ
Nogales, SON
Guaymas
Mazatlan
Guadalajara
5 hours
16 hours
26 hours
255 miles / 410 kms
742 miles / 1,194 kms
1,053 miles / 1,694 kms

El Paso, TX
Ciudad Juarez, CHH

Chihuahua
Zacatecas
Mexico City
5 hours
11 hours
24 hours
234 miles / 376 kms
782 miles / 1,258 kms
1,158 miles / 1,863 kms

Laredo, TX
Nuevo Laredo, CHH

Monterrey
Zacatecas
Mexico City
3 hours
8 hours
14 hours
139 miles / 224 kms
431 miles / 693 kms
719 miles / 1,157 kms

Brownsville, TX
Matamoros, TAM

San Luis Potosí
Veracruz
Mexico City
10 hours
17 hours
14 hours
347 miles / 559 kms
598 miles / 963 kms
606 miles / 975 kms
Bus Companies From USA to Mexico
Aside from Greyhound, these are some of the bus companies from USA to Mexico. Please access their sites for more information on bus schedules and destinations.
Bus Travel Within Mexico
Buses in most cities are efficient and have regular trips and accessible routes. The bus, after all, is the most common mode of public transportation in Mexico. This is your way to get from the larger cities to the small villages. Try to book your ticket at least one day in advance, to make sure that you have a ticket.
The buses have different levels of comfort and service – there is the deluxe (ejecutiva), first (primera) and second (segunda). The deluxe bus service is usually worth the extra dollars, as this is usually an express service (virtually no stops), plus it provides air-conditioning and movies during the trip. There are also Collectivos, which are mini-vans or mini-buses that ply the routes of the different cities of Mexico.
In smaller villages, the buses are simpler and do not offer air-conditioning. But these buses usually illustrate more about Mexican culture than the other buses. Be aware that highway robbery is a real risk, so try to travel during the day instead of late at night and be alert.
Bus Terminals
There are four major bus terminals in Mexico City, namely:
Northern Bus Terminal (Terminal Central Norte)
Destinations: Aguascalientes, Baja California, Chiapas, Chihuahua, Coahuila, Colima, Durango, Guanajuato, Hidalgo, Jalisco, Michoacan, Nayarit, Nuevo Leon, Puebla, Oaxaca, Querétaro, San Luis Potosi, Sinaloa, Sonora, Tamaulipas, Veracruz, U.S. connections
Southern Bus Terminal (Terminal Central Sur - Tasqueña)
Destinations: Chiapas, Guerrero, Morelos, Puebla, Oaxaca, Tabasco, Veracruz.
Eastern Bus Terminal (Terminal de Oriente – TAPO)
Destinations: Campeche, Chiapas, Puebla, Oaxaca, Quintana Roo, Tlaxcala, Tabasco, Veracruz, Yucatán.
Western Bus Terminal (Terminal Centro Poniente)
Destinations: Guerrero, Jalisco, Michoacán, Nayarit, Querétaro, State of Mexico, Sinaloa, Sonora
For tickets, go to www.ticketbus.com.mx.
Bus Companies in Mexico
ADO GL www.adogl.com.mx
Autotransportes de Baja California www.abc.com.mx
Autotransportes Turisticos del Noroeste www.turisticosnoroeste.com
Estrella Blanca www.estrellablanca.com.mx
Estrella de Oro www.estrelladeoro.com.mx
Estrella Roja www.estrellaroja.com.mx
Enlaces Terrestres Nacionales (ETN) www.etn.com.mx
Grayline www.grayline.com
Grupo Senda www.gruposenda.com
Omnibus de Mexico www.omnibusdemexico.com.mx
Parhikuni www.parhikuni.com
Primera Plus www.primeraplus.com.mx
Pullman de Morelos www.pullman.com.mx
TMT Caminante Mex, D.F www.tmt-caminante.com.mx
Transpais www.transpais.com.mx
Useful Tips When Riding the Bus
1. When waiting for a bus, stand by the side of a street, looking into traffic. Raise you arm when you see a bus approaching.
2. To get off the bus, simply hail the bus driver at any point along the bus' route.
3. Bring water and some snacks.
4. If you are traveling at night, wear warm clothes as it can get chilly.