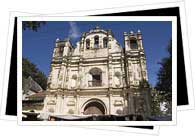 Baroque Architecture in Mexico: Styles
Sober Baroque:
This style is marked with cornices with carvings and moldings, vegetal decoration in the spandrels of arches and doors, columns adorned with horizontal or vertical grooves.
Salomonic Baroque:
This style uses columns of helicoidial form. It was introduced in Mexico by the Italian architect Bernini.
Churrigueresque Baroque:
This style is marked with overstuffed adornments that are a bit over the top – with lots of flower vases, angels and garlands decorating the facades.
Ultrabaroque:
This style used much of stucco and wood carving. It is an extension of the Churrigueresque style.
Baroque Architecture in Mexico: Examples
Catedral Metropolitana (Mexico City)
This cathedral was built from the stones taken from the ruins of Aztec temples. It was began in 1573 but was not completed until 1788. it blends three architectural styles: baroque, neoclassical and Mexican churrigueresque.
Santa Prisca y San Sebastián Church (Taxco)
This is among the most imposing baroque cathedrals in Mexico. It has an elaborately carved façade. Its interior is adorned with paintings by Miguel Cabrera and gold-leafed angels and saints.
Capilla del Rosario (Puebla)
Situated in the church of Santo Domingo, this chapel features Talavera tile, gold leaf decorations, carved wood and molded plaster. It is quite magnificent.
Basilica de Nuestra Señora de Guanajuato (Guanajuato)
This cathedral is made of pink quarry stone. It also mixes the Baroque, Churrigueresque and neoclassical styles.
Mision de San Javier (Loreto)
This structure has a baroque façade, with stained-glass windows and an arched colonial doorway. You will also find intricately sculptured baroque-style religious items inside.
Mision de Nuestra Señora de Loreto (Loreto)
The building has a stone baroque style façade with simple pilaster. Inside, you will find a sculpture of Our Lady of Loreto and a collection of 17th and 18th century paintings.