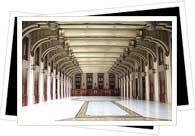 The art-deco style saw its boom in the beginning of the 20th century.
Art Deco in Mexico: Examples
Palacio Postal
This edifice is built in the Art Deco and Art Nouveau styles.
Palacio de Bellas Artes
This concert hall is considered one of the most beautiful concert halls in the world. It has a mix of art nouveau and art deco style.