Spanish Schools in Mexico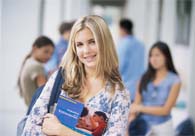 From coastal paradises to quaint colonial hamlets, our partner Spanish schools in Mexico are dispersed throughout the country's culturally and geographically diverse regions.
While we guarantee the best teachers, academic materials, Spanish courses, school facilities, student lodging, etc. at all of our schools, please keep in mind that each school has its own unique characteristics.
Why Study Spanish at our Schools in Mexico?
Great location! All of our schools in Mexico are located in the most happening parts of town

Personal attention! Classes are limited to a maximum of 5 or 8 students, depending on the school

Ideal for all levels! From total beginner to advanced and everything in between.

Enthusiastic, specially trained teachers make learning a pleasure.

Unbeatable flexibility! You can start your course any Monday, all year round.

Active learning! Schools organize all sorts of activities and excursions.

Feel at home while away from home! Carefully selected host families, apartments and residences.

Embark on an adventure! At no extra charge you can follow the same Spanish course to as many of our schools as you want!