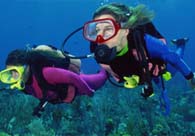 From centuries-old indigenous archaeological sites to sun-soaked Caribbean beaches, Mexico is a diverse country brimming with sights and experiences. We want you to discover it all!
When you study Spanish with us, we know it's not just for the classroom experience but rather for the experience of immersing yourself in another culture and taking advantage of every moment. With this in mind, our Spanish schools in Mexico organize a variety of activities and excursions for our students.
Mexico Activities & Excursions for Students
Each destination has unique highlights in the city and throughout its surroundings.