Food Culture in Mexico: Eating in Mexico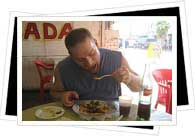 When eating in Mexico, be sure to remember these tips to make things easier for you:
Eat light at first, so as to get yourself accustomed with Mexican food
Never drink tap water (water from faucets or drinking fountains)! Drink bottled water instead.
Steer clear of unpasteurized or raw food
Food Culture in Mexico: Dining Etiquette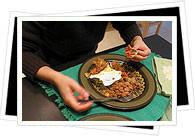 Of course, different cultures have their own customs, even when it comes to eating. In Mexico, here are some dining etiquette pointers to keep in mind.
Keep your hands on the table at all times. Never under the table!
When invited into a Mexican home, it is better late than early. Try to arrive 30 minutes late or more.
Wait until you are invited to sit and sit where you are told to sit.
Wait for the hostess to start before eating.
When it comes to toasts, only men are expected to give them.
Don't eat all the food in your plate. It is polite to leave some after a meal.
When you are finished eating, place the fork (prongs facing down) and knife across your plate, with the handles facing to the right
Food Culture in Mexico: Gastronomy Festivals
Mexico is rich in culture – this is also very true when it comes to food. Here is a list of some food festivals you may catch when in Mexico:
May
Vineyards Flowering Festival (Ensenada, Baja California) – Here, there is wine tasting and regional food is served.
International Wine and Cheese Festival (Tequisquiapan, Queretaro). This annual affair serves up cheese and wine from cheese and wine producers all over the country.
August
Mid-August Mushroom Fair (San Juanito, Chihuahua) – Mushrooms galore! Discover the many types of mushrooms and the myriad ways to cook them.
Late August Chili in Walnut Sauce Festival (Puebla, Puebla) – Mexican's staple food is served up in walnut sauce at this festival. Here, entries for the world's largest chili is judged by representatives of the Guinees Book of World Records.
October
National Mole Fair (San Pedro Actopan) – This rich sauce is cooked up in a thousand and one ways. There is a competition for the best sauce.
November
Shrimp Festival (Guaymas, Sonora) – Forrest Gump can hold nothing to it. This is a gastronomic feast based on shrimps.
Candy and Nut Festival (Parras, Coahuila) – Sweet lovers unite! This festival aims to take a crack at the world record for the largest candy made of nuts.
Festival Gourmet International (Puerto Vallarta, Jalisco) – Sample the culinary talents Mexico and the world has to offer.
Festival of the Radishes (Oaxaca, Oaxaca State) – Radish in many forms – not just as food but art pieces as well!