Familiarize yourself with the bebidas (drinks) in Mexico so you know just what to order! Using a little Spanish goes a long way in Mexico!
Water
Beer
Brandy
Coffee
Tea
Soft drinks
Gin
Orange juice
Milk
Rum
Wine

Agua
Cerveza
Aguardiante
Café
Té
Refrescos
Ginebra
Jugo de naranja
Leche
Ron
Vino (blanco/ tinto)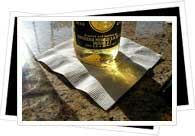 Here is a rundown of popular drinks in Mexico.
Cerveza
For beer lovers, Mexico is the place for you, as their beers are world-renowned. The usual brands are Sol, Corona de barril, Dos Equis, Negra Modelo, Modelo Especial, Tecate and Indio.
Tequila
Tequila is usually served as a major ingredient in margaritas, with salt-rimmed glasses and lime juice. For those who want to do it the Mexican way, try the Mezcal, which is a rougher version of tequila.
Other Drinks
Other drinks include tepache (made from pineapple), tuba (fermented juice from the coconut tree), and pulque (ferment made from Maguey).