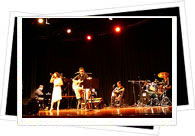 With something always going on, Mexico's music and entertainment scene is very much alive!
Some of these concerts and performances can be found in the many concert and cultural halls. There is the Auditorio Nacional, Mexico City's largest entertainment venue.
Mexico City also boasts the Sala Silvestre Revueltas, which features the Orquestra Filarmonica de la Ciudad de Mexico (Mexico City Philharmonic Orchestra). Meanwhile, the Palacio de Bellas Artes feature performances by Ballet Folclorico de Mexico, among others.
February
Ceremony of the Pocho Dance (Tabasco)
This reenacts the ancient ceremonies and are danced by people wearing masked and dressed in tiger and jaguar costumes. The dance itself is a symbolic one – typifying the battle of good against evil.
March
Zihuatanejo Internacional Guitar Festival (Ixtapa)
This festival celebrates the musical artistry of the guitar. From Sunday to Sunday, there are daily activities that feature the guitar.
April
Festival Internacional de Guitarra de Morelia (Michoacan)
Michoacan hosts this international event. Recitals, conferences, seminars and contests are well attended by local and international artists.
May
Cancun Jazz Festival
(
Cancun
)
This is a big event as it draws participants all around the country and the world. There are free concerts (indoor and outdoor), where musicians are given the freedom to express their love for jazz.
July and August
Festival Internacional de Musica de Camara (Guanajuato)
Local and international artists gather to perform in Guanajuato's open gardens and cathedral.
September
International Mariachi and Charro Festival (Guadalajara)
Mariachi lovers unite! This is a gathering celebrating mariachi music. Of course, Guadalajara is considered the mariachi capital of the world.
November
International Jazz Festival
(
San Miguel de Allende
)
This month-long festival features jazz masters and jazz lovers.