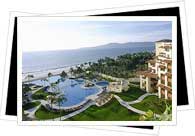 Hotels in Mexico are rated through the "Stars and Diamonds" System, as decided upon by Calidad Mexicana Certificada A.C. or Calmecac (www.calmecac.com.mx). The hotel which meets the highest requirements earn five diamonds. This means that the hotel has top-tier infrastructure and that the facilities, services and hygiene meet the highest international standards.
Five-star hotels offer similar quality, but the level standards on service and detail of the room is lower than that of five-diamond hotels. Four-star hotels offer more basic facilities and services, with hot water and purified drinking water. Three-, two-, and one-star hotels have progressively lower standards.
In Mexico, you will find the familiar hotel brands and major international chains, but also a number of less familiar brands. There are also boutique hotels, so named because of their smaller size but higher service level standards.
All in all, Mexico's hotels will provide you with a "home away from home" as you enjoy the various wonders and sights in the country.
Tips for making the most of your hotel stay:
1. Save on your hotel room by:
Booking online: This helps you shop around and compare the prices of different hotels. There are also hotels that offer internet-only discounts.
Ask questions:

Ask whether there are hidden charges or additional charges.
If you are bringing children, ask if they stay in the room for free.
Try to plan your trip during the midweek, when hotel prices are lower.
Find out about long-stay and group discounts.
2. Look up the hotel's reviews in the different websites.
3. Book a room with a kitchenette. Not only do you get to try to cook local cuisine, you can save some money by not eating out occasionally.