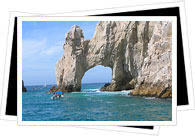 This is the place to see and be seen where Hollywood stars frolic on the beaches, with world class resorts and championship golf-courses providing the backdrop. Cabo San Lucas is also the place where you can enjoy awesome outdoor activities, such as sports fishing and a wide variety of exciting watersports. Cabo San Lucas also boasts of a spectacular nightlife and fine-dining.
Cabo San Lucas is just at the southern tip of Baja California. If you are looking for adventure sports coupled with Hollywood glamour, this is the place to go.
When in Cabo, there are three major areas you can visit:
The Main Town (Cabo San Lucas)
This is the place to get entertainment and nightlife. This is how it gets its nickname – Cabo San Loco, where you can party all night long. This is also the place where you can find the famed arch (El Arco), which is also known as the lovers' beach. The El Arco is a natural rock formation that is a wonder to behold.

The Old Town (San Jose del Cabo)
This is closest to the airport. It boasts of a mix of old-world Mexican charm and ritzy resorts.

The Corridor
This is the strip of land that connects Cabo San Lucas and San Jose. The Corridor is home to fancy resorts, condos, and golf-courses, all set to the backdrop of a dazzling coastline. The Corridor is composed of 20 miles of white sand beaches and coves.
Sights & Experiences in Cabo San Lucas: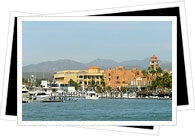 Cabo San Lucas Glass Factory for a fun afternoon tour, where you can see the traditional art of glass blowing.
The beach! The major beach in Cabo San Lucas is called El Medano.
Todos Santos: This is a great side trip from Cabo San Lucas. This town is a center for culture and art.
What to Do in Cabo San Lucas:
Whale-watching. Come between January and March, the best time of the year to head out to sea to visit with the whales. This breathtaking experience is one you are not likely to forget.
Sports fishing. Cabo is famous for this sport and there are boats you can rent for this. There is an annual Marlin tournament in Cabo, which is said to be the largest such tournament in the world. Here you can fish for tuna, hammerhead sharks and mahi-mahi.
Watersports. Scuba diving, surfing, parasailing, and snorkeling are just some of the options.