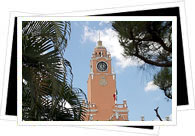 Merida is a colonial town that has absorbed the conveniences of the modern world. Here, you can find posh hotels and malls in one area and a more down-to-earth set of hotels and stores in the downtown area. Merida is also a treasure trove of cultural delights – there are concerts and performances held almost daily at the many venues it has, particularly in the plaza.
This is a town rich in culture and history, and you will discover that a lot of the inhabitants are actual descendants of the Mayans who found their home there. This fact is further seen in the city's culture through clothing, speech and histories (both oral and written).
Merida stands as the capital of the Yucatan state. It is also the state's largest city. It boasts a tropical climate, with mild winters and sizzling summers. The average temperature in the summer is 35º C. There is also a rainy season, which starts in June and ends in August. It has quite a lot to offer, such as colonial missions, ecological parks, Mayan sites, beaches and caves, and more. Believe us, there are plenty to occupy your time while visiting Merida!
Sights and Experiences in Merida: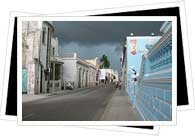 Mayan Archaeological Sites

Chichen Itza. This enormous pre-Columbian site built by the Mayas is one of Mexico's most famous archaeological sites.
Mayapan. While it's not exactly located in Merida (it is 40 kilometers southeast of Merida), it is another fasincating Pre-Columbian Mayan site.
Uxmal. Here you will find the ruins of a Mayan city.

El Paseo Montejo
This tree-lined street has large colonial houses (mansions!) and is perfect for an evening stroll. There are also sculptures made by the city's up-and-coming artists.
What to Do in Merida
Go see concerts and cultural performances: The city offers weekly (even daily) outdoor concerts and performances. Check out the tourism office for the schedules. There is sure to be one in the many parks and squares in the city. These are free of charge.
Go swimming in the cenotes, pools where you can swim to cool down.
Eat! Make sure to taste the tamales served hot, fresh and cheap!. In addition, the food in the Yucatan peninsula is unique in itself, quite set apart from Mexican cuisine in other regions. Here are some must tries: poc Chuc (Mayan barbecued pork), queso relleno (ground pork inside a piece of cheese ball), and relleno negro (turkey meat in black paste).
Explore the art galleries and shops. Merida is filled with superb art galleries and shops.
How to Get to Merida
If you are already in Mexico, you can ride the bus to Merida. There are also direct flights to Mexico from Europe and the United States (Houston, Las Vegas and Miami).