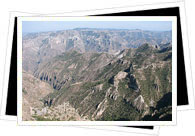 The Copper Canyon is home to a wide variety of flora and fauna, and is a great place for nature tripping, hiking and similar activities.
Copper Canyon Highlights
Cascada de Basaseachic National Park
This 14,505-acre park is home to the highest waterfall in Mexico. The park is itself an oak and pine forest, providing shelter to pumas, mountain lions, white tail deer, falcons and woodpeckers.
Nature trips along the Copper Canyon.
You can explore and discover the regions natural history, wildlife and culture.
Hiking and horseback-riding
The lay of the land and the natural landscapes make Copper Canyon both enjoyable and challenging for hiking and horseback-riding enthusiasts.